Agriculture is the only profession that cut across several areas of the economy, hence it can employing anyone from any field of endeavor.
Foundation for Young Farmers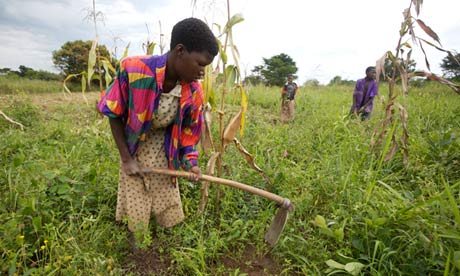 Farming by machete and hoe does not appeal to young Africans – or policymakers. Photograph: Dan Chung for the Guardian
Agriculture employs most of Africa's young people and is likely to continue to do so in the future. But to meet the aspirations of millions who want rewarding work, the continents's agricultural sector will have to change markedly. Today's farming by machete and hand hoe does not appeal to young Africans or to policymakers. Farming is not even viewed as a "job" by many young Africans, who instead reserve the term for employment that requires clean clothes and a desk. Yet for a generation of young people entering adulthood, agriculture offers the best opportunity to move out of poverty and build satisfying lives.
Markets for food are booming globally and in Africa. Recent trends in income growth, urbanisation and diet have created a sharp rise in demand for food…
View original post 839 more words